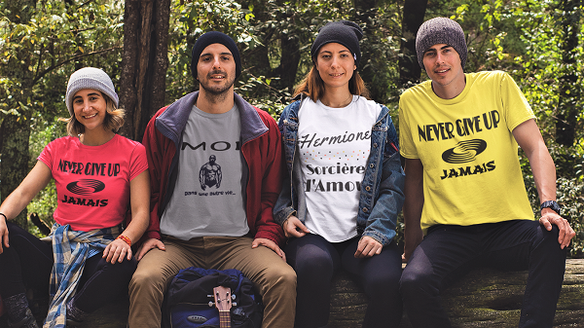 Reading in French : It is one of the solutions to build your French vocabulary, by reading mini-stories. Wheter you want to progress in French or satisfy your love for stories.
You will be able to continue to develop your skills, you will acquire new vocabulary and expressions with more exciting and unpublished stories.The objective is always the same : to progress and learn with joy and enthusiasm, and for that the theme of each story have to be different to enhance the reading experience.
Undoubtedly, we are convinced that the pleasure of reading enhances your knowledge and provides a high level of satisfaction.
Reading in French online, yes you can ! Have a look below.
Here is an example with a story : « L'enchanteur de papilles / A taste bud pleaser  » 
L'ENCHANTEUR DE PAPILLES
" C'était encore un sans-faute, Charles ! " Les bras chargés de caisses, Charles adressa un sourire chaleureux à sa fringante cliente qui fêtait, ce jour-là, ses soixante-dix printemps :
" Tout le plaisir était pour moi, Madame Dubreuil. Je suis ravi que vous ayez apprécié mes huîtres.
- Un véritable délice ! Redites-moi encore comment vous obtenez ce goût si particulier ! "
Charles posa sa lourde charge à l'arrière du camion frigorifique où son fils, Antoine, s'empressa de la placer au frais. Il grimaça lorsque ses douleurs aux lombaires se rappelèrent à son bon souvenir. A cinquante ans, son corps portait déjà les traces d'une vie bien remplie mais il n'en aurait changé pour rien au monde...
un sans-faute : flawless one
fringante cliente : dashing client
soixante-dix printemps / ans : seventieth birthday
huîtres : oysters
ce goût si particulier : this particular taste
empressa : quickly
au frais : in a cool place
il grimaça : his face cringed
douleurs : pain
à son bon souvenir : resurfaced
pour rien au monde : not for anything in the world
" Je vais chercher les poches d'huîtres dans un village ostréicole situé le long du Cap-Ferret. Ensuite, je les emmène en affinage sur la réserve naturelle nationale pile en face de la dune du Pilat, je pense qu'elles apprécient la vue.
- Assurément, renchérit Yvonne, mes invités s'en souviendront longtemps ! Vous êtes un enchanteur de papilles, Charles !
" Sur ce dernier compliment, elle lui saisit la main et la serra très fort entre les siennes avec effusion. Le chef cuisinier hocha la tête et se dégagea doucement. C'était un homme pudique mais qui savait, en une seule phrase, charmer n'importe quel client hésitant :
" Allez Antoine, on y va ! Les croquants aux amandes ne vont pas se faire tous seuls ! "
village ostréicole : oyster producing village
 je les emmène : I'm taking them
 pile en face : right in front of
apprécient la vue : enjoying the view
renchérit : added
serra très fort : squeezed very tightly
chef cuisinier hocha la tête : chef nodded his head
pudique : modest
charmer n'importe quel client : charm any customer
Le camion frigorifique démarra et Charles s'adossa à son siège en se frottant les yeux :
" Tu devrais lever le pied, Papa, lui lança Antoine, tu vas finir par faire un burn-out ! "
L'inquiétude dans la voix de son fils unique l'empêcha de rétorquer avec rudesse.
" Burnout ", encore un mot qu'il entendait à toutes les sauces ces derniers temps. Comme si on pouvait s'écrouler en vivant de sa passion ! Pour lui, la cuisine était toute sa vie ! Sillonner les routes, emplir de bonheur les assiettes de ses clients, arpenter les marchés avec son fils pour dénicher les fruits les plus savoureux, la viande la plus tendre... Il ne pouvait imaginer renoncer à tout cela :
" Arrête-donc de te faire du souci et rappelle-moi notre prochaine commande. C'est la famille Dupuis à Bordeaux, c'est ça ?
- Oui, pour le mariage de leur fille. J'ai acheté ce qu'il faut pour les cannelés. On aura plus qu'à les confectionner la veille.
- Et pour les entrecôtes, as-tu bien pensé à te procurer les cèpes chez Jean?
- Mais oui, Papa ! Tes entrecôtes Bordelaises seront parfaites, ne t'en fais pas !
en se frottant les yeux : rubbed his eyes
lever le pied : slow down
 L'inquiétude : Concern
rétorquer avec rudesse : retaliating harshly
à toutes les sauces : in all forms
Sillonner les routes : Travelling the roads
arpenter les marchés : walking through markets
dénicher : finding
les plus savoureux : the tastiest fruits
faire du souci : worrying
confectionner la veille : processed day before
procurer : to get
Charles grommela dans sa barbe, ce qui fit rire Antoine. Il adorait son père et sa recherche continuelle de l'excellence dans ses mets. Il espérait être doté du même talent mais il ne fallait pas compter sur Charles pour lui donner le moindre indice. Le chef cuisinier était avare de belles paroles, se contentant d'acquiescer après avoir goûté une sauce ou éprouvé le croustillant d'un pain :
" Tu as un don pour l'esthétique ", lâcha soudain Charles au bout de quelques minutes. Sa remarque prit Antoine de court et ses mains se crispèrent sur le volant du camion. Son père semblait pensif, tout à coup, comme déconnecté de ce qui l'entourait :
" Moi, je suis le garant de la qualité des produits mais c'est ta magie à toi qui séduit nos clients, qui leur donne envie de dévorer mes plats jusqu'à la dernière miette.
- Oh... merci Papa... "
Un ange passa et les deux hommes se laissèrent happer par leurs pensées respectives. Envahi par des sentiments contradictoires, Antoine tenta de se concentrer sur la route. La tête penchée du côté de la vitre passager, Charles semblait s'être assoupi. Antoine l'observa du coin de l'œil, le cœur lourd.
gromella dans sa barbe : grumbled in his beard
continuelle : constant
mets : dishes
le moindre indice : the slightest hint
goûté une sauce : tasting a sauce
croustillant : crispness
un don pour l'esthétique : a gift for aesthetics
au bout de : after
crispèrent : tightened
volant : steering wheel
semblait pensif : seemed pensive
le garant de la qualité : guarantor of quality
ta magie à toi : your magic
dévorer mes plats : devour my dishes
se laissèrent happer : let themselves be caught up
Envahi : Overwhelmed
sentiments contradictoires : by conflicting feelings
penchée du côté de : tilted to the side of
assoupi : fallen asleep
l'observa du coin de l'oeil : observed it out of the corner of his eye
Son père en faisait trop, au détriment de sa santé. Le jeune homme se demanda ce qu'on ressentait lorsqu'on était animé d'une telle passion. Lorsque toute son existence consistait à régaler les autres, réjouissant même les esprits les plus chagrins. Son père était peut-être un cuisinier mais pour Antoine, cela allait bien au-delà de cela.
Tel un peintre, Charles savait d'instinct quel produit allait harmonieusement s'accorder avec un autre, comme des couleurs sur une palette. Il était capable d'élaborer un menu raffiné, puis, de rentrer chez lui et de déposer sur la table familiale un plat rempli de saveurs, accompagné d'un vin rosé du Médoc :
" Les gens aiment ce qui est beau avant ce qui est bon."
Antoine sursauta à ce triste constat, surpris d'entendre la voix de son père qu'il croyait endormi. Une douleur cachée lui vrilla l'estomac devant les yeux vides de Charles. Vides depuis ce terrible accident survenu quelques années auparavant :
" Un cuisinier aveugle, il a intérêt à avoir une bonne paire de yeux de rechange !
- Et c'est un honneur pour moi d'être tes yeux depuis trois ans, Papa.
- Je sais mon grand, je sais. "
Et père et fils retombèrent dans le silence puisque tout avait enfin été dit.
                                                                                           FIN
détriment : at the expense
régaler les autres : spoiling people around him
bien au-delà : far beyond
harmonieusement : go well / harmoniously
élaborer un menu raffiné : create a refined menu
rempli de saveurs : full of flavours
sursauta à ce triste constat : startled after hearing about this bad observation
Une douleur cachée : A hidden pain
les yeux vides : empty eyes
Un cuisinier aveugle : A blind cook
paire de yeux de rechange : pair of spare eyes
honneur : honor
You can also read this story by downloading our 2 French short stories pdf. (You will have this story and another one). Please, note that these stories are free, just one click to download, without contact form 😉
Free E-book : 2 French short stories
Growing your vocabulary in a pleasant way with these 2 stories in French.
2 french stories -.pdf
Adobe Acrobat Document
1.4 MB
That's it, did you read them ? 😊 If you liked these 2 stories and want to read more, it continues.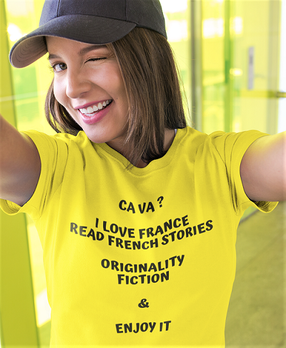 10 French stories with English translations : Adventures, liaisons, plots, some are sad or happy… Of course, you can progress your French by reading original stories, you can improve and build your vocabulary. First, let's look at a few points…
Memorize vocabulary more easily with compelling texts
Have you learned the basics of a foreign language and tend to always use the same words or expressions ? You're stagnating… It is by reading French books that spark our interest that we progress. We often hear that « our brains are more receptive with stories ». And it's true. You have to improve your capacity to visualize elements related to words and expressions. Why ? Because stories always make you think about virtual situations. You visualize them and then try to get as close as possible to the characters. By doing this, you are focused and in the right condition to learn.
French reading with short stories, packed with emotions, are a great to build up your vocabulary while having fun. We have also experienced the following :
I remember parts of sentences and expressions
Of course each language has its own expressions and it would be difficult to know them all. The power of stories lies in the way it helps you learn and retain more effectively by keeping you involved with the content. You will improve your written comprehension progressively and you will be able to use these expressions in various conversations (because you will have understood their exact meaning). Moreover, being able to use very typical expressions denotes beautiful mastery of the language. It's always good to feel this kind of confidence and put it into practise.
It is important to note that new vocabulary will give you more self-confidence and allow you to write and engage in conversation with more ease. Here are other benefits you will get from these stories :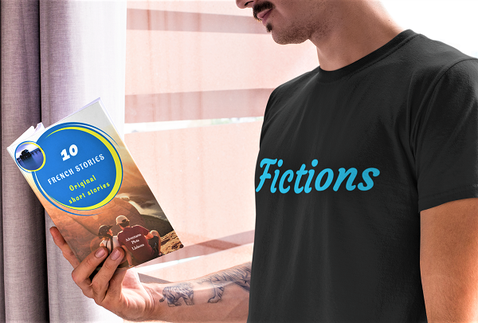 French stories : An additionnal motivating tool
You will find very French expressions in each story. Words, expressions or parts of sentences will be selected and made bold. You can then find their English translations below. It is undeniable that if you want to know a language perfectly or have a high level, you generally need be good at writing, speaking, grammar etc. But we can assure you that progressing in a language with new vocabulary built through compelling stories is a productive as it is pleasant. Once again, trust yourself. You will feel satisfaction growing your vocabulary in a plesant way. What do we mean by pleasant :
On top of that, I develop my French while enjoying it
These original and unpublished mini-stories were written by ourselves and verified by a literary writer (French native speaker). These stories are varied and imagined for adults who appreciate realism mixed with fiction. You will see malice, enjoy a good laugh, and feel emotions or a heart ache… Some of them are cute while others are more theatrical and surprising… But all them are original !
What are these 10 French short stories about ? The surprise always is revealed at the end of the story ! Here are the titles :
1.    Vagues et galères / Waves and galley
2.    Ma vie en pixels / My pixelated life
3.    Promenade entre amis / A walk with friends
4.    Rien ne sert de courir / There's no point in running
5.    Vacarme à la maternité / A big racket at the maternity ward
6.    Un arrêt sur le passé / A look on the past
7.    Un 1er avril inoubliable / An unforgettable April 1 st
8.    Une randonnée mouvementée / An eventful hike
9.    Avis de tempête / Storm warning
10. Sur la route des souvenirs / On memory lane
E-book : 10 original French stories
"I progress in French by reading short stories"
 Improve your French and your vocabulary with enthusiasm and joy. 
The theme of each story is different : adventures, plots, liaisons...
They are surprising and can be happy... or sad !
PDF E-book in French, and English translations for some words and expressions.
For adults intermediate level and for all people who love reading stories.
Final price, free shipping to selected countries
Free shipping to the following countries: Albania, Andorra, Australia, Austria, Belarus, Belgium, Bosnia and Herzegovina, Bulgaria, Canada, Switzerland , Croatia, Cyprus, Czech Republic, Denmark, Estonia, Faroe Islands, Finland, France, Georgia, Germany, Gibraltar, Greece, Greenland, Hungary, Iceland, Ireland, Italy, Latvia, Liechtenstein, Lithuania, Luxembourg, Macedonia, Malta, Mexico, Moldova, Monaco, Montenegro, Montserrat, Netherlands, New Zealand, Norway, Poland, Portugal, Romania, Russia, Saint Pierre and Miquelon, San Marino, Serbia and Montenegro, Slovakia, Slovenia, Spain, Svalbard and Jan Mayen, Sweden, Turkey, Ukraine, United Kingdom, United States, U.S. Minor Outlying Islands, Vatican City Show more Show less
Available
In the day or maxi 48 hours
Why such a low price ?
Indeed, the e-book for only 2 Euros.
The first reason is that it allows almost everyone to enjoy our 10 stories.  We have worked hard to create them, and it is a real pleasure when people read and appreciate them.

The 2nd one allows us to finance the hosting of this website, that's all it is. You understand that we are not selling this e-book to make money. That does not remove the value and content of the stories.
Please note that we only accept payment PayPal (or if you prefer by Revolut, please tell us by e-mail). Concerning the e-book we will send you as soon as possible, however you have to know that the sending is not automatic, it is manuel (in the day or within 48 hours - Indeed, it is not a machine that will send it directly, it is a little human finger 😉). Now you know everything ! You will get 10 really interesting short stories in French for a mini price, for one coin. And note that you will never receive e-mails from us to suggest another more expensive book or a training or anything else.
Article : Who are we ? and how we have improved our foreign language.